Our community and mission
In the undergraduate public policy program at UK, we prepare future leaders who are committed to integrity, equity, and excellence in public service.
Careers
Public policy graduates have options - and UK has the resources to help students determine their career path.
Experiential Learning
From internships, to field experiences, and research projects, learning by doing is crucial for preparing public policy majors for their futures.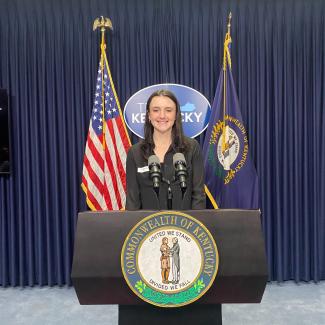 "Public policy is the major for people with passion! To me, a career in public policy, and potentially in law, is a path of advocacy, impactful change, and stewardship of the common good and the public interest. As a freshman, it's hard to look a year into the future, let alone four, but with a degree in public policy, and the support of the incredible staff and students in the Martin School, I can trust that both my peers and I are being set up for success in our chosen endeavors."
Olivia R., '24