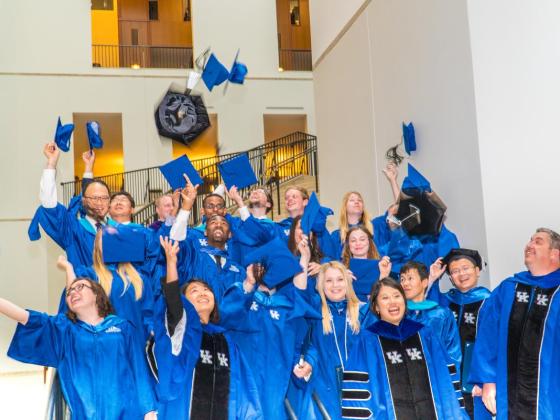 Fully Online Program
Master of Public Financial Management
36 credit hour program
Top 3 Public Financial Management Programs in the U.S.!
The Master of Public Financial Management (MPFM) is designed to meet the national demand for well-trained financial managers for public and non-profit organizations and prepares students for careers in public financial management, accounting and budget analysis.  Offered 100% online and asynchronously, the MPFM courses and schedule are designed for working and non-traditional students to engage in their classes at their own pace while taking two classes per semester (8 weeks each).  The 36 credit hour program includes all the courses found in the Graduate Certificate plus an additional 24 hours.  Students in a fully-online program are charged in-state tuition https://www.uky.edu/studentaccount/tuition
For more information, contact the Program Director, Rhonda Trautman.
Can be completed in two years of course work, including summers. Each course is 8 weeks, except in the summer.
Fall 1
PA 631 Public Financial Management
PA 632 Public Funds Management 
Spring 1
PA 625 Govt Accounting & Financial Condition Analysis
PA 627 Governmental Auditing
Summer 1
PA 696 Legal Issues in PFM (4 weeks)
PA 626 Applications in Govt Accounting & Auditing (8 weeks)
Fall 2
PA 633 Municipal Securities
PA 695 Data and Revenue Forecasting
Spring 2
PA 685 Tax Administration
PA 697 Public Financial Policy Analysis
Summer 2
PA 694 Public Pensions and Insurance (4 weeks)
PA 681 Capstone Project (8 weeks)
The Capstone is a self-selected research project centered on relevant policy questions, which you will present during your final master's exam.
Comparison
Both the MPFM and the Graduate Certificate in Public Financial Management:
Include four foundational courses in public financial management (PA 625, 627, 631, 632)
are affordable-all online students pay the in-state tuition rate
are offered in similar online, asynchronous formats
If a student starts in the Certificate and continues into the Masters, those certificate credits will count towards your Masters
Graduate Certificate
Can be completed in one academic year
can enhance other advanced degrees or provide an introduction to professionals
Master of Public Financial Management
Can be completed in two years of continuous enrollment (fall-spring-summer)
Provides the opportunity to take electives focusing on technical, central financial management questions
Includes a capstone project
Enrolling in online programs
Starting your Master's Degree
Transcripts (unofficial are acceptable for the application but official ones will be required by the Graduate School)
Personal statement (indicate your public service background and why you want to obtain an MPA)
CV or resume
TOEFL/IELTS for international students
GRE not required
Contact Graduate Student Affairs