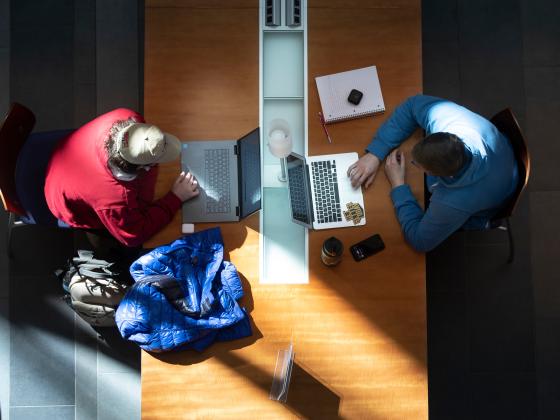 Support for incoming and current students
Applications are available October 1 and must be submitted by February 1. Only complete applications will be considered, and students are welcome to apply for both scholarships if they qualify, though only one award is given per student. 
All scholarship decisions will be made by the Martin School undergraduate committee based on a holistic review of each applicant's qualifications, including, but not limited to GPA, academic recognition and awards, community service, leadership experiences, and financial need.
Michael and Margaret Ruehling Undergraduate Public Policy Scholarship
This scholarship is available due to the generosity and commitment to public service of Mr. Michael Ruehling, retired government and government relations professional, UK alum, and member of the Martin School Board of Visitors. The Ruehling Scholarship will be awarded to incoming freshman only. This award is non-renewable.
Martin School Undergraduate Scholarship
This award is for current and incoming full-time Public Policy students who have demonstrated financial need and experience in public service, advocacy, or leadership. This award is renewable for two years, and applications are only accepted in the spring semester for awards to be dispersed the following fall semester. 
Award Criteria
Admitted as a primary Pre-Public Policy major
Graduate from a Kentucky high school
Demonstrated unmet financial need
Minimum of 3.0 unweighted GPA
Demonstrated engagement, interest and/or leadership in the field of public policy
Award Criteria
Admitted or current pre-public policy or public policy major (primary major/degree)
Demonstrated unmet financial need
Minimum 3.0 unweighted high school, transfer, or cumulative UK GPA
Experience in public service, advocacy, and/or leadership
Desire to pursue a career in public service
Martin School Veterans Scholarship
The Martin School offers scholarships of $250 per semester for undergraduate public policy majors who are veterans or currently serving in the military. Undergraduate students who believe they qualify should contact Brooke Kuerzi. 
This award is renewable for up to four years, which is the typical timeline for completing the bachelor's degree in public policy.
21%
of public policy majors receive departmental funding
Current and incoming students receive funding each year through the Martin School.