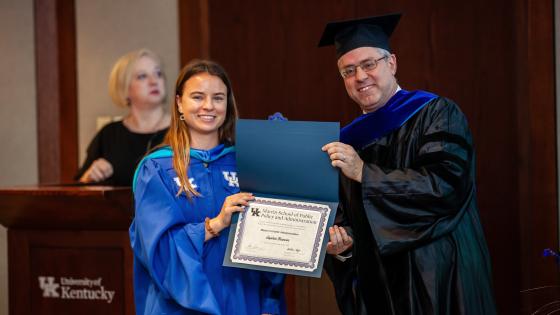 About the
Martin School of Public Policy and Administration
Our legacy of teaching, research and public service.
Diversity, Equity, and Inclusion Commitment Statement
The Martin School is committed to diversity through our classes, programs, and by creating a general culture of inclusiveness, where a wide array of viewpoints and lived experiences are heard and respected. Diversity, equity, and inclusiveness are particularly important for a school of public policy and administration as we must educate future public servants who understand the value of diversity and have the tools to confront inequity in its many forms. Both historical and current policies may create or perpetuate inequity through institutional and structural racism, income inequality, gender bias, and more. As policy experts and scholars, we understand that policy is an important tool to combat discrimination against marginalized groups, and the Martin School can help our students and alumni confront inequity as we train them in their coursework and as we support them in their careers. Therefore, the Martin School is committed to making diversity and equity a central tenet of our curriculum, extracurricular programming, and recruitment plans. We will ask for feedback from current students, alumni, and other Martin School stakeholders along the way and make adjustments as often as needed to ensure our actions reflect our stated commitment to diversity, equity, and inclusivity.
Academics at The Martin School
At A Glance
Graduation Rates
Below is a breakdown of time to graduation for the 5-year MPA cohort starting in 2015-2016:
Graduation Rates MPA Cohort (2015-2016)
Initially enrolled: 19
Graduated within 2 years: 13
Graduated within 3 years: 17
Graduated within 4 years: 18
*Full-time students generally complete the degree in two years, while part-time students (less than 9 credit hours per semester) can take at least twice as long, depending on the various courseloads. Dual degree students (PharmD/MPA or JD/MPA) generally complete both programs in four years.
Job Placements
About half of 2020 graduates found work in the nonprofit sector, with four working in public university systems. A little less than half found work in city, state, or federal government offices. One student is employed in the private sector and one student is still pursuing employment.
Job Placements for 2019-2020 MPA Graduates using NASPAA Categories: 15 Students Total
US Government: 2
State Government: 2
U.S. Local Government: 2
International Quasi-Government or Government All Levels: 0
Nonprofit (domestic-oriented): 7*
Nonprofit (international): 0
Private Sector (research/consulting): 0
Private Sector (not research/consulting): 1
Obtaining Further Education: 0
Military Service: 0
Unemployed (not seeking employment): 0
Unemployed (seeking employment): 1
Status Unknown: 0
*Includes four students employed in higher education administration at public university
Due to the Pharm.D./MPA dual degree program, we typically have a high number of placements in the Health Care Sector, including Health Administration. The Nonprofit area of specialization is one of the most popular, and typically a high percentage of graduates remain in this field. Due to the number of University employees in our program, we typically have a high number of placements in Higher Education Administration.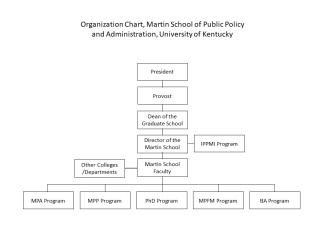 The Martin School's MPA program is accredited by the NASPAA (Network of Schools of Public Policy, Affairs, and Administration) Commission on Peer Review and Accreditation and listed on the Annual Roster of Accredited Programs in conformity with NASPAA standards.
NASPAA, the global standard in public service education, is the premier specialized accreditor of graduate programs in the area of public affairs. Only 173 institutions are currently accredited.
The most recent reaccreditation cycle was completed in 2021, and is valid through 2028.
Center of Excellence
The Martin School of Public Policy and Administration was designated a "Center of Excellence" by the University of Kentucky in 1985 and received additional funding for program enhancement. Program enhancement activities included the introduction of the Ph.D. program as well as increased interaction with service units in the community and state.
In addition to the doctoral program, research and service programs have been developed in conjunction with the Council of State Governments that is located in Lexington, Kentucky. While many individuals and units of the University of Kentucky have worked closely with the Council in the past, the designation of the Martin School as a Center of Excellence enhances opportunities for mutually beneficial exchanges and joint education, research and public service programs between the Martin School and the Council.
Tuition, Applying, and Internships
Full-time students pay a total amount (plus fees) per semester, while part-time students pay an amount per credit hour.
William E. Lyons Award for Outstanding Service
This award was given annually to an individual associated with the university who has given outstanding service to the University of Kentucky, the community, or the Commonwealth. It is named in honor of Dr. William E. Lyons (1935-1994), Professor of Political Science and Public Administration, Director of the Martin School, Chair of the Political Science Department, Chair of the Lexington-Fayette County Merger Commission, member of the Urban County Council, and chair or member of various other university and government committees.
2020 - Bill and Mary Witt
2019 - Anne-Frances Miller
2018 - Paul Eakin
2017 - D. Stephen Voss
2016 - Allison Connelly
2015 - Eugenia F. Toma
2014 - Kenneth R. Troske
2013 - M. Scott Smith
2012 - TK Logan and Carol Jordan
2011 - Patrick P. Deluca 
2010 - Ernest Yanarella
2009 - Hatim Omar
2008 - Merl Hackbart
2007 - Joseph L. Fink, III
2006 - Ellen K. Hahn
2005 - Penny M. Miller
2004 - Wimberly C. Royster
2003 - Jack C. Blanton
2002 - Thomas S. Foster
2001 - Daniel R. Reedy
2000 - Lauretta F. Byars
1999 - Donald C. Haney
1998 - Ronald D. Eller
1997 - Joseph P. Straley
1996 - Carolyn S. Bratt
1995 - Gilbert Friedell
Martin School Mission Statement
The Martin School of Public Policy and Administration excels in research, education, and service by applying our intellectual and other resources to public policy and management issues.
We accomplish our unique purpose by:
Engaging in cutting-edge, policy analytic research.
Preparing students in our programs to be future leaders able to bridge the gap between analysis and action.
Providing service to the Commonwealth of Kentucky, nation, and international communities.
Providing an innovative environment reflective of commitment, strategic thinking, and integrity in public service.
MPA Mission Statement
The Martin School's Master of Public Administration program prepares future public and nonprofit leaders who are committed to integrity and excellence in public policy, public financial analysis, and public management.
To accomplish our mission we:
Foster commitment to public service and excellence in public policy and administration.
Prepare both pre-service and in-service students to provide professional leadership in public policy and administration at all levels of government, in not-for-profit organizations, and in the public service-related activities of profit-seeking enterprises.
Enhance the knowledge and problem solving capabilities of our students by focusing on policy analytic and public financial management skills so they can function effectively as analysts, managers, and leaders.