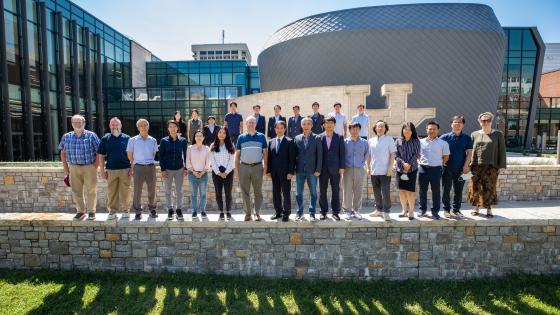 IPPMI
International Public Policy and Management Institute
The International Public Policy and Management Institute, housed at the Martin School of Public Policy and Administration, is the first educational institute established at the University of Kentucky to provide international professionals with various opportunities to advance themselves as global experts. The Institute links the academic and professional expertise of faculty, researchers, and alumni to the needs of international professionals in business, government, and public organizations around the world. The Institute can draw on an interdisciplinary faculty with expertise in public policy, public administration, economics, business, management, international relations, and political science, and applies academic advances in those fields to the analysis of public policies and management issues in a global setting. The institute currently concentrates on professionals, government officials, and employees of local public enterprises in Asia, but is eager to expand its focuses to other countries to meet the needs of their professionals.
Director's Message
Welcome to the International Public Policy and Management Institute (IPPMI) at the University of Kentucky. IPPMI is the link between American public service professionals and international professionals and government officials with an emphasis on practical and academic knowledge of policy and management in the USA.
The range and versatility of our certificate programs ensure that participants receive crucial skills and practical experience that directly match their career needs. Our certificate programs are tailored to the specialized demands of program participants and are independent of current Martin School courses. Further, the IPPMI provides the Master in Public Administration (MPA) and Master in Public Policy (MPP) programs that combine one and a half year of graduate study with a half year of internship placement. We offer flexible programs that range from short-term executive programs, visiting scholar to legislative fellows programs. The IPPMI is an implementing agency for the professional exchange program of the U.S. Department of State. We also provide each participant with personal assistance as they settle into their new life at UK.
IPPMI participants may also go beyond the University of Kentucky campus: our participants travel to Washington DC, Chicago, Atlanta and other important centers to meet and collaborate with other professionals in their chosen field.
Just as our world's situation is rapidly changing, so is the significance of professional expertise as a response to new challenges. Whether you are early in your career as a professional, mid-career, or at the senior level, IPPMI and UK can provide you with the latest and best, custom-tailored opportunities for learning.
Thank you for taking the time to visit our website. If you wish to learn more about our exciting and challenging programs please feel free to write to us. All of us at the IPPMI look forward to helping you do research, learn, and develop at UK.
Getting to Know Lexington