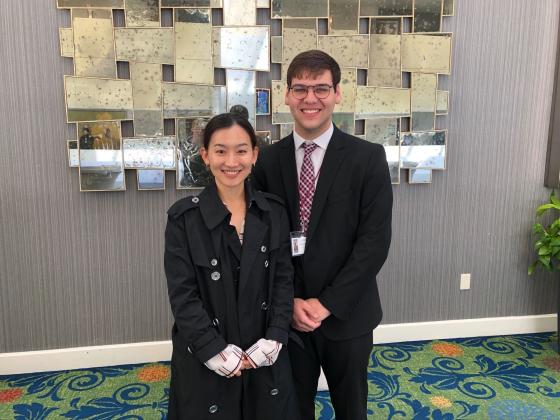 Students learn and practice research skills throughout their journey
Getting involved in research
Students can work with Martin School faculty on a research project or reach out to other faculty at UK. There are many resources for students interested in pursuing independent research at UK, and students so far have worked on projects related to environmental justice, human services nonprofits, and more. All public policy majors also research, write, and present a policy brief on an issue of their choice during their last year in the program. 
Resources for Undergraduate Research
There are many resources dedicated to helping students get started with research and support them as they complete their projects.
Office of Undergraduate Research
The UK Office of Undergraduate Research (OUR) is driven to empower UK undergraduates with knowledge and skills critical to their development as citizens and leaders of their communities through experiential learning. To achieve this mission, the OUR vision is to provide all UK undergraduates opportunities to pursue mentored research and creative work to discover, invent, and create the never before.
Chellgren Fellowship
Students in the Chellgren Fellowship Program benefit from a variety of extracurricular events designed to broaden cultural and intellectual horizons, ranging from field trips to plays and museums to informal book discussions and current-events programs.
Students apply during February of their first year and the program takes place in the second year.
UK Libraries
UK Libraries hosts databases, research guides, study spaces, and more for students to use in their classes and research endeavors. Martin School students can also seek assistance from Jennifer Horne, the Business, Economics, and Government Information librarian.
The first group of graduating public policy majors presented their policy briefs in December 2022. The posters and accompanying policy briefs ranged in topic from healthcare to education to environmental policy and beyond. 
PPL 395 - Independent Research in Public Policy
Current public policy majors and minors can earn up to three hours of PPL 395 credit per semester for their research. The earned credit hours varies depending on total work hours spent on the project. Students will work with the Director of Undergraduate Studies and their faculty mentor to complete a research contract before they start working on their project.
$4M
$4.2 Million in grant funding in the last five years!
Our faculty deliver ground-breaking research at the highest levels.